My name is Julia, and I've never seen a Bond film.
Okay, I did see Skyfall (2011) in theaters when it was first released, but it doesn't really count because the only thing I remember is Javier Bardem's blond hair (wig?) and absolutely nothing about the plot. But here I am ten years later finally rectifying the situation.
Since the release of the 25th Bond film, No Time To Die, has been pushed back for the 32904829358th time due to this seemingly never-ending global pandemic, I've decided this is the year where I will watch all 24 official canon Bond films in order of release.
"How could you possibly make it this far without seeing more than one Bond film?," you ask?
Good question. I guess it's mainly because I didn't grow up watching them. I wasn't introduced to them at a younger, impressionable age like a lot of the Bond fans I know, and I don't have family members who are hardcore fans. The Bond films have been hovering around the "I'll get to it when I get to it" part of my watch list for years, never really a priority until now. I figured if I could watch 24 new-to-me Westerns like I did last year, I could certainly watch 24 Bond films.
I haven't lived entirely under a rock, however–I'm aware of the elements of the franchise that are ingrained in pop culture, such as "shaken, not stirred," the songs, and outlandish villains who have earned a place in meme culture. I even had an elementary school classmate named–I kid you not–James Bond, who I sincerely hope has embraced the name since then and now introduces himself like this, because I totally would: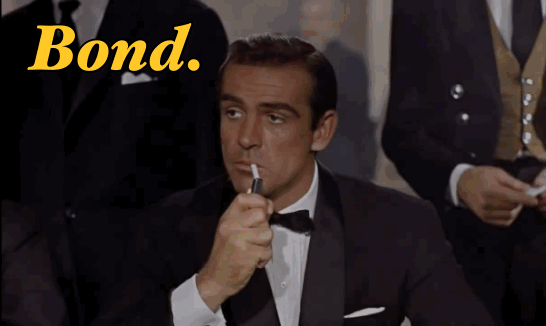 Anyway, my plan is to watch two to three Bond films a month before I see No Time To Die, which at the time of this post's publication is scheduled for release on October 8, 2021. I will be utilizing my local library to rent the films on Blu-Ray and DVD because streaming availability is fickle and physical media and libraries are still essential.
For reference, these are the films:
Dr. No (1962)
From Russia with Love (1963)
Goldfinger (1964)
Thunderball (1965)
You Only Live Twice (1967)
On Her Majesty's Secret Service (1969)
Diamonds Are Forever (1971)
Live and Let Die (1973)
The Man with the Golden Gun (1974)
The Spy Who Loved Me (1977)
Moonraker (1979)
For Your Eyes Only (1981)
Octopussy (1983)
A View to a Kill (1985)
The Living Daylights (1987)
License to Kill (1989)
GoldenEye (1995)
Tomorrow Never Dies (1997)
The World Is Not Enough (1999)
Die Another Day (2002)
Casino Royale (2006)
Quantum of Solace (2008)
Skyfall (2012)
Spectre (2015)
Will Bond become my latest movie obsession? Will I absolutely regret this decision halfway through? Will I finally try a martini? Stick around to find out.